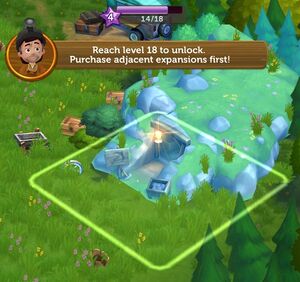 Merryweather Mine is a foraging spot. It is unlocked at Level 18 and costs 100,000 coins.
You can send a maximum of 6 farm hands to forage there. Foraging costs 2 Blanket, 2 Granola Bar and takes 2 hours.
For more detailed information about the drop rate for foraged items read the foraging page.
Possible Rewards
50 experience points per farm hand.
Bonus 250 coins - If Dakota is foraging here.
Barn Nail - This is a low chance item
Barn Padlock - This is a low chance item
Clay
Tin

Increased chance of Tin if Calvin is foraging here.
Bonus Tin if the Siamese Cat is foraging here.
This information is current as of Version 4.0.392 (32)
Ad blocker interference detected!
Wikia is a free-to-use site that makes money from advertising. We have a modified experience for viewers using ad blockers

Wikia is not accessible if you've made further modifications. Remove the custom ad blocker rule(s) and the page will load as expected.