Working on confirming level information, much of it is incorrect. My experimental account is at level 11, so I can confirm that recipe info is correct up to that point. See the main page for an example.
This Farm could use attention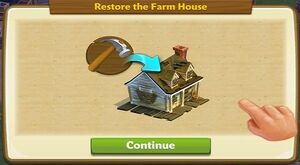 How about a little help?
Mostly completed
Currently under construction:
Awaiting updating
Information on foraging and NPC places such as the Farm Order Board, Sophia's Tasting Table, Pike's Landing, Mariner's Orders, and the Cove need to be added. This includes what type of items are given at the foraging sites and what is asked for at each NPC location. Updating about Farmhands will be harder as some farmhands add bonus items at certain locations.
Previous event locations and specialty farmhands may not be covered unless I can find a source that has that info.
Ad blocker interference detected!
Wikia is a free-to-use site that makes money from advertising. We have a modified experience for viewers using ad blockers

Wikia is not accessible if you've made further modifications. Remove the custom ad blocker rule(s) and the page will load as expected.