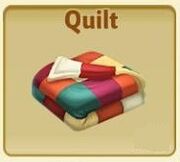 Level
Category
Workshop
Materials
Time
Min
Price
Base
Price
Max
Price
33
Recipes
Loom
2 Duck Feather
6 Wool
30 minutes
16,000
19,000
24,000
You can sell 1 of them per slot at the Farm Stand.
Each one crafted will add 22-25 Wagon Points to your Winner's Wagon progress bar.
Ad blocker interference detected!
Wikia is a free-to-use site that makes money from advertising. We have a modified experience for viewers using ad blockers

Wikia is not accessible if you've made further modifications. Remove the custom ad blocker rule(s) and the page will load as expected.