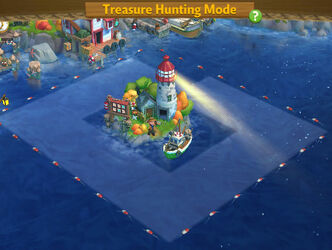 Treasure Hunting Mode is the foraging function of the Cove. When you enter this mode, 44 searchable tiles appear around the Lighthouse. To forage you must use a net on a tile of water.
Nets
Nets are available to purchase at the Cove and cost as follows:
Gold Net (Search time: 5s)
1 Gold Stamp
157 Keys
5x for 708 Keys (~142 Keys per net)
Silver Net (Search time: 1h)
1 Silver Stamp
121 Keys
5x for 546 Keys (~109 Keys per net)
Bronze Net (Search time: 8h)
1 Bronze Stamp
225000 Coins
44 Keys
5x for 198 Keys (~40 Keys per net)
Possible Rewards
Rewards will be a mixture of these items, with Gold Nets seemingly giving more rewards and more chance of Keys.